Applicable Industry: Mainly used for drilling tube plate, clapboard, flange and large plate in petrochemical, boiler, wind power, flange industries and also for connection plates in building, bridge, iron tower industries.
Product feature:
1
.
The
lathe
consists of
lathe
bed
, work table, gantry,
slide
carriage
, power head, CNC system,
c
ooling chips discharge system etc.
2.
The
lathe
works in mode of
l
athe bed and gantry being fixed and work table moving.
3.
The lathe bed and gantry are weld assembly, work table is iron casting, which was
high
temperature
anneale
d before processing,
was
annealed again after half finished machining to remove stress, then finished machining so that ensure stable precision.
4.
The lathe has 3 numeric control axes; a heavy linear guide is equipped on
t
he lathe bed. The work table can make longitudinal movement along the guide(X axis), the gantry cross beam has a linear guide too; the slide carriage
can make lateral movement along the guide (Y axis). Sliders are equipped on the slide carriage, a guide on power head which can make vertical movement on the slide carriage.
5.
The power head spindle is precision spindle of Taiwan KENTURN / Taiwan Xutai, which is driven by special frequency conversion motor and can make stepless speed regulation according to needs. The spindle is BT50 taper hole. The
drilling head, reamer or milling cutter can be installed by splice bar. The spindle box has a loose cutter cylinder (air and hydraulic pressure) for easily changing
cutters. It also can equip with cutter inter-cooled splice bar to realize high speed cutting.
6.
The chip cleaner equipped at the back of work table can discharge chips automatically. The lathe use water cooling with the system of cooling liquid providing, recycling, circulating and filtrating.
7.
Numerical control uses FAGOR8055 system, with RS232 connector and color LED panel, Chinese interface. It can make spot / external PC workpiece input and be easily operated.
8.
Protective covers are equipped for X/Y axis guides and lead screw of the lathe. Iron sheet cover is for X axis, and organ-protective cover for Y axis.
9.
For ensuring the reliability of the lathe, the key components use high quality imported products. See the main spare parts list for details.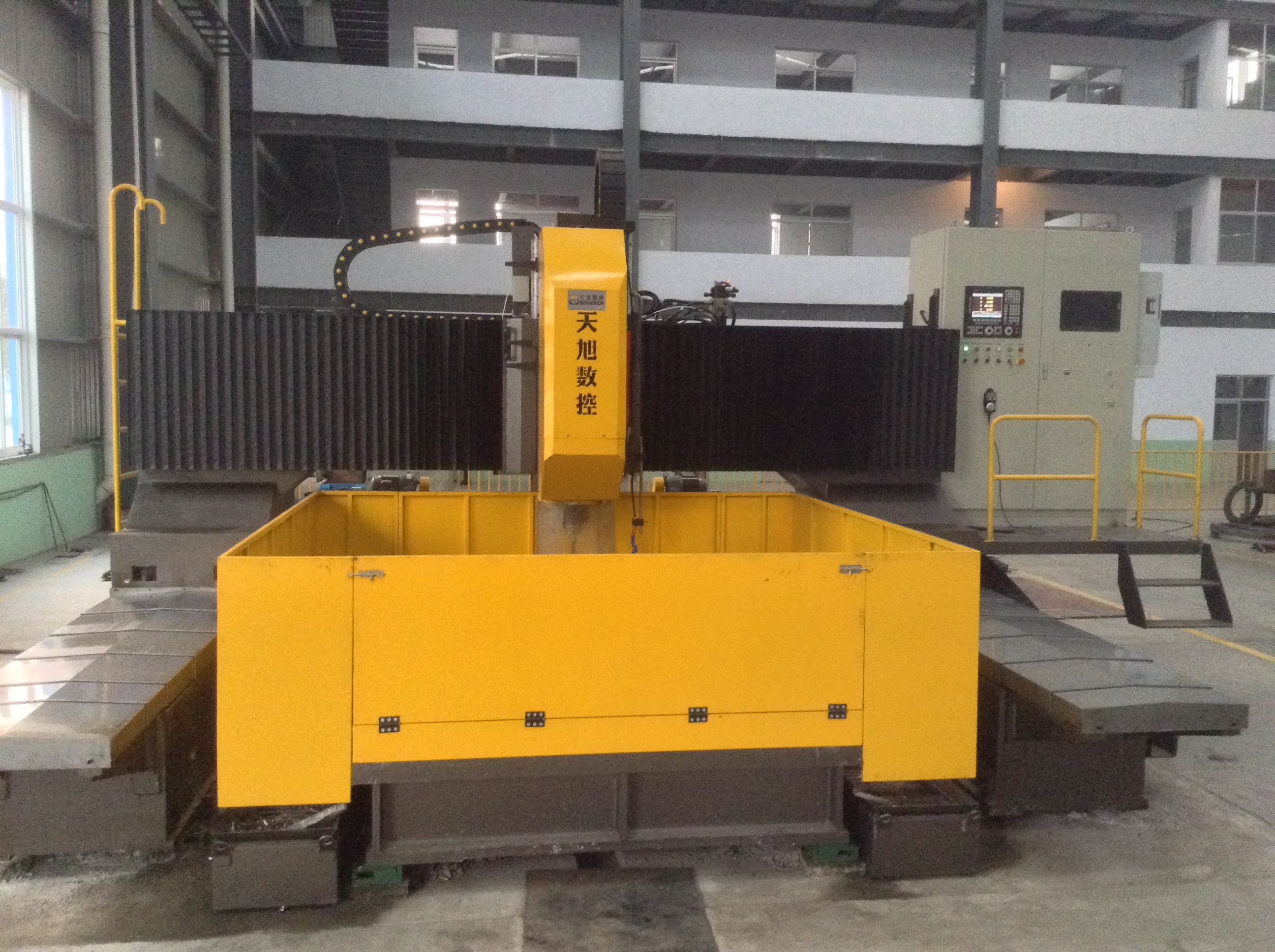 S
pecifications:
Parameter Name
Item
Specifications
Max. size
L X W
2000X1200mm
Max thickness
250mm
Work table
Width of T slot
28/500mm
Vertical slide type drill head
Quantity
1
Main spindle taper hole
BT50
Max drill diameter(common carbon steel)
φ40mm(carbide drill)
φ50mm(HSS twist drill)
Main spindle speed
30-2400r/min
Motor power of spindle
22/33kW
Distance between spindle tip to work table
300-800mm
(X axis)
Gantry longitudinal move

Max. stroke
2000mm
Moving speed of X axis
0-8m/min
Servo motor power of X axis/torque
3kW/28.4Nm
(Y axis)
Power head transversal move

Max stroke
2000mm
Moving speed of Y axis
0-8m/min
Servo motor power of Y axis/torque
3kW/28.4Nm
(Z axis)
Vertical slider feeding
Stroke of Z axis
500mm
Feeding speed of Z axis
0-5m/min
Servo motor power of Z axis/torque
3kW/28.4Nm
Positioning accuracy
X/Y axis
≤0.1mm/ Full length
Repositioning accuracy
X/Y axis
≤0.05mm
Hydraulic system
Hydraulic pump pressure/flow rate
6.5MPa /25L/min
Hydraulic pump motor power
3kW
Pneumatic system
Compressed air pressure
≥0.4MPa
Chip cleaning and cooling
Chip cleaner type
Plate chain type
Chip cleaner no.
2
Chip cleaning speed
1m/min
Chip cleaner motor power
0.75kW
Motor power of inner cooling water pump
3kW
Motor power of Outer cooling water pump
0.75kW
Automatic lubricating system
Lubrication pressure
2MPa
Lubrication point oil injecting amount
0.1mL
Lubrication period
6-10min
Electric system
CNC system
FAGOR8055
CNC axis NO.
4
Whole power of motors
Approx. 48kW
Overall size
LxWxH
Approx. 5800X5800X3600mm
Weight
Approx. 28t
Main Components List:
NO.
item
model
Manufacturer
Main electric components
1
CNC system
8055
Spain FAGOR
2
Servo motor
MGMA302P1G
Panasonic
Servo driver
MFDDTB32A
3
Servo motor
MGMA302P1H
Servo driver
MFDDTB32A
4
Variable frequency motor for spindle
YPNC-50-22-4-B/B5
Shanghai Senlima
5
frequency transducer of spindle
22kw
Germany Siemens
6
low-voltage apparatus
ALL
France Schneider/SIMENS
7
Business computer
LCD
China Lenovo
8
Proximity switch
Normally open
Germany BEDOOK
Or AUTONICS
9
Normally close
Main hydraulic components
1
magnetic valve
All
ATOS Italy
2
Hydraulic cutter receding cylinder
H1000(S=20)
Taiwan
main mechanical parts
1
spindle
BT50
Taiwan KENTURN/ Taiwan Xutai
2
Power head bearing
All
Japan NSK
3
ball-screw
All
Taiwan HIWIN or TBI
4
Linear guide
X/Y axis
Taiwan HIWIN or PMI
5
Linear guide
Z axis
Switzerland SCHNEEBERGER
6
cable drag chain
All
Germany IGUS
Spare Parts List:
No.
NAME
MODEL
Qty.
Remark
CASE 1
1
Proximity switch
Normal open
1
Germany BEDOOK
2
Proximity switch
Normal close
1
Germany BEDOOK
3
Indexable insert drill
880-D2500L25-05
1
SANDVIK
4
Indexable center blade
880-05 03 05H-C-GM 1044
5
SANDVIK
5
Indexable surrounding blade
880-05 03 W05H-P-GM 4024
5
SANDVIK
6
Special screw for blade
1
SANDVIK
7
Bit extension
A2B27-50 25 090
1
SANDVIK
8
Spring collet
A2B14-50 25 100
1
SANDVIK
9
Spring jacket
393.14-25 120
1
SANDVIK
10
BT Oblique shank drill sleeve
BT50xMT4
1
MADE IN CHINA
11
HSS twist drill
¢50
1
MADE IN CHINA
12
Carbide-tipped milling cutter
¢12
1
MADE IN CHINA
13
Pop-rivet
BT50, 45°center cooling
2
MADE IN CHINA
14
Pop-rivet
BT50, 45°
2
MADE IN CHINA
15
Photoelectric edge finder
OP-20
1
Taiwan SYIC
16
BT/ER end mill chuck
BT50x ER32-80
1
Taiwan SYIC
17
Spring jacket
ER32-20
1
Taiwan SYIC
18
Socket head wrench
1 set
WALTON
19
Adjustable spanner
300mm
1
WALTON
20
Spanner
17-19
1
WALTON
21
Screwdriver
-
1
WALTON
22
Screwdriver
+
1
WALTON
23
Standby paint
Yellow, gray
2
24
Air gun
1
25
Operation manual
1
26
FAGOR 8055 operation manual
1
27
FAGOR 8055 programming manual
1
28
FAGOR 8055 error troubleshooting manual
1
29
Packing list
1
30
Certification of conformity
1
31
Spare parts list
1
CASE 2
1
Contour block
150 mm x100 mm x50 mm
15
2
T block
M20
10
3
Pressing plate
10
4
Double end stud
M20,300mm
5
5
Double end stud
M20,400mm
5
6
Hex nut
M20
20
CASE 3
1
Ground anchor
B2, 450mm
8
2
Ground anchor cover plate
8
3
Ground anchor spanner
1set
4
Adjustable pad steel
S85-2(200mmx100mmx80mm), M16
20 sets
5
Foundation bolt
M24x500(GB/T 799)
20
6
Hex nut
M24
40
7
Side top-plate
GZX2020.1-12
12
8
Hex screw
M20x100
12
9
Hex nut
M20
12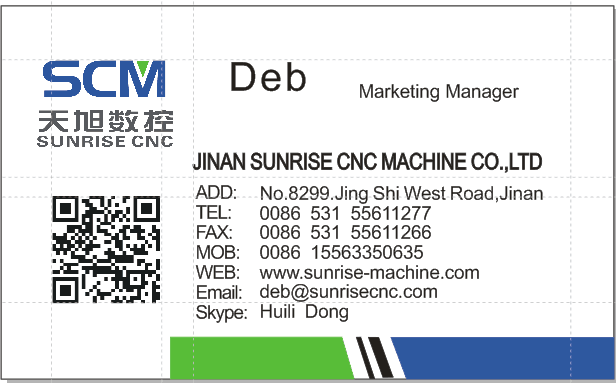 Looking for ideal Metal Plate Drilling Manufacturer & supplier ? We have a wide selection at great prices to help you get creative. All the High Speed Drilling are quality guaranteed. We are China Origin Factory of High Speed Plate Drilling. If you have any question, please feel free to contact us.
Product Categories : Drilling Machine > Plate Drilling Machine