CNC punching and shearing equipment for the processing of angles studied for small and medium size steel construction companies. These lines provide flexibility and simple use, and are characterized by an innovative infeed roller conveyor system allowing high precision with minimum loss of material.

Advantages:
Versatile solution: each model can be configured according to the most diverse production lots and to customer requirement with an affordable investment.

Compact frame for easy installation and reduced overall size.

Remote diagnosis is possible through a network connection that allows our service team to perform routine checks
The linear tool carrier (y-axis) has several stations that hold the punching tools and one cutting tool. Especially for flexibility and efficient processing are setup times a crucial cost factor. Downtimes should be reduced to a minimum. Therefore, recent tool systems are designed for fast and convenient change of punches and dies. They are equipped with a special plug-in system for a quick and easy change of tools.
There is no need to screw anything together. The punch and die plate are adjusted to each Other automatically Punches and dies can be changed rapidly meaning less machine downtime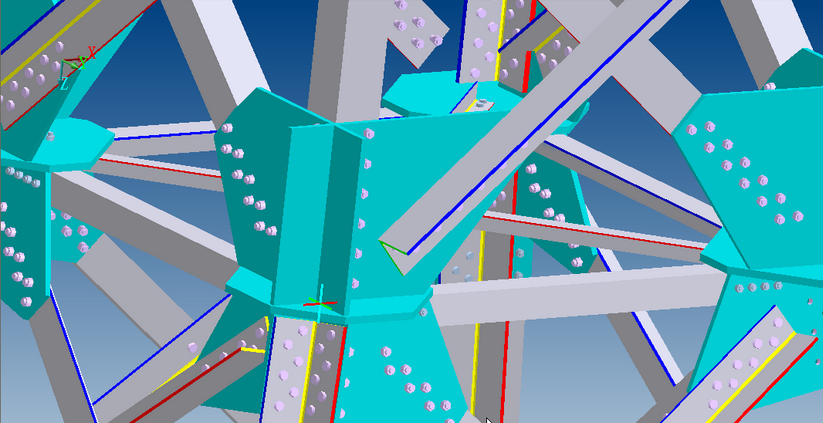 Angle punching round hole and s-lot hole samples
The Punching Unit: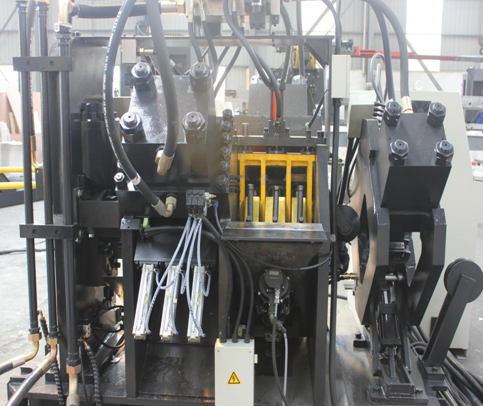 This unit is consists of three pieces of machine body, two hydraulic pressure punching cylinders, four die bases with upper and lower dies, and two sets of servo systems for controlling stadia adjustment. This unit can be installed three different standards punches on each side. Every punch matches with one gas cylinder. The gas cylinder piston pole links a padding block, which installed between punch poles and oil cylinder press head. It automatic chooses punch, namely choose relevant gas cylinder to drive relevant padding block according to the order of computer. The position of stadia is located by servo motor, which drives ball screw to drive die base move up and down, thus to achieve the requirement of stadia position. It can punch many rows and different diameters holes on two wings of angle steel.

The Marking Unit: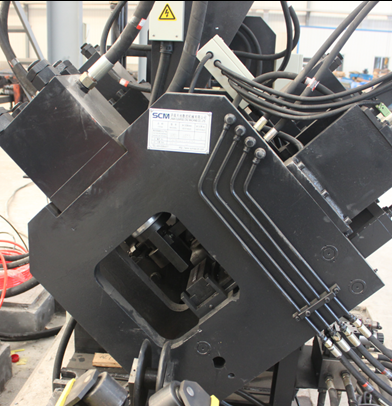 New design for type marking unit, more stable and longer life
This unit consists of fix lathe bed, movable lathe bed, hydraulic pressure head, four positions oil cylinders (can change four positions for character boxes) and adjusting device. According to the order of computer, to mark on places the drawings require. For making the mark clear and endurable, and avoiding the angle steel abrade character heads, it adds oil cylinder of movable lathe bed uplift and falling. For satisfying the processing scope, it adds manual adjustment setup, which can change the position of characters to adapt different standards angle steel.

The Shearing Unit: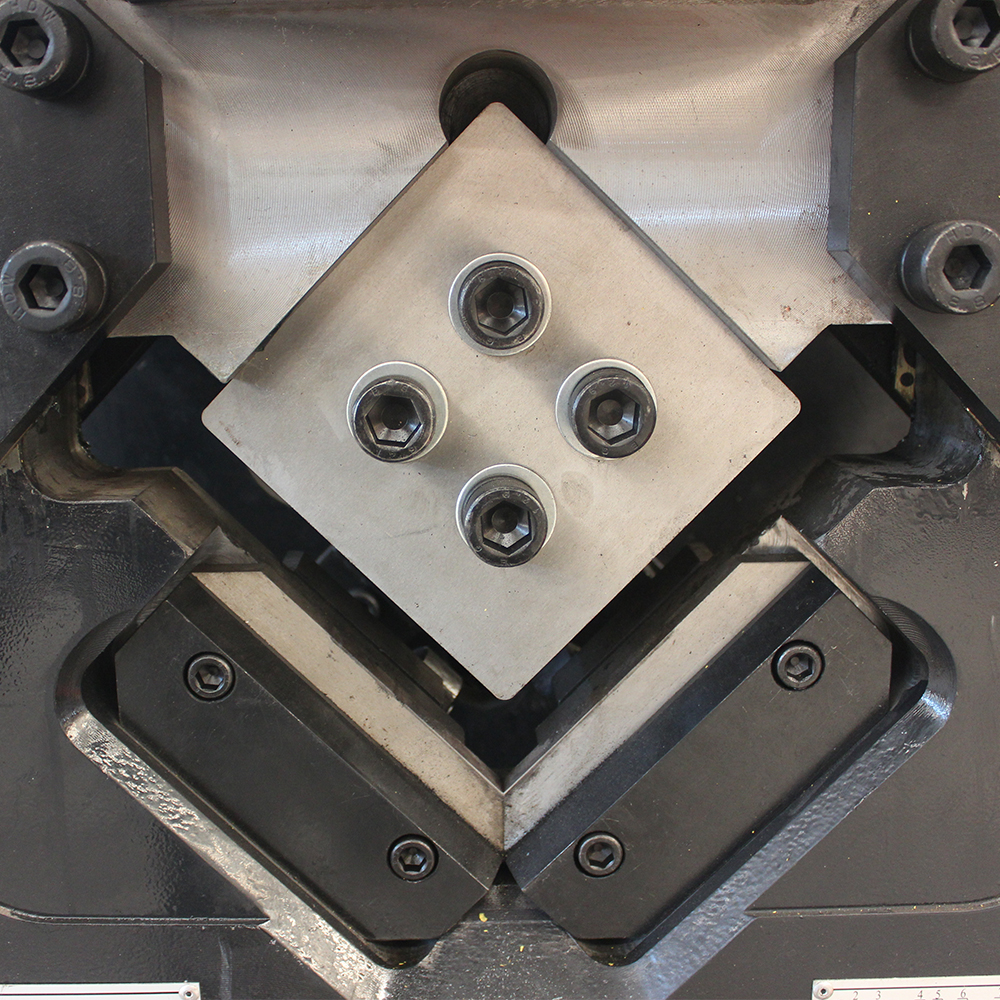 This unit consists of frame machine body, hydraulic pressure dynamic cylinder, upper blade setup, lower blade setup, and front bracket tank etc. The front bracket tank avoids angle steel to strike lower blade. The lower blade setup can adjust the clearance according to angle steel thickness to ensure the cutting quality. It cuts different standards of angle steel, according to the order of computer.

The Feeding Conveyors: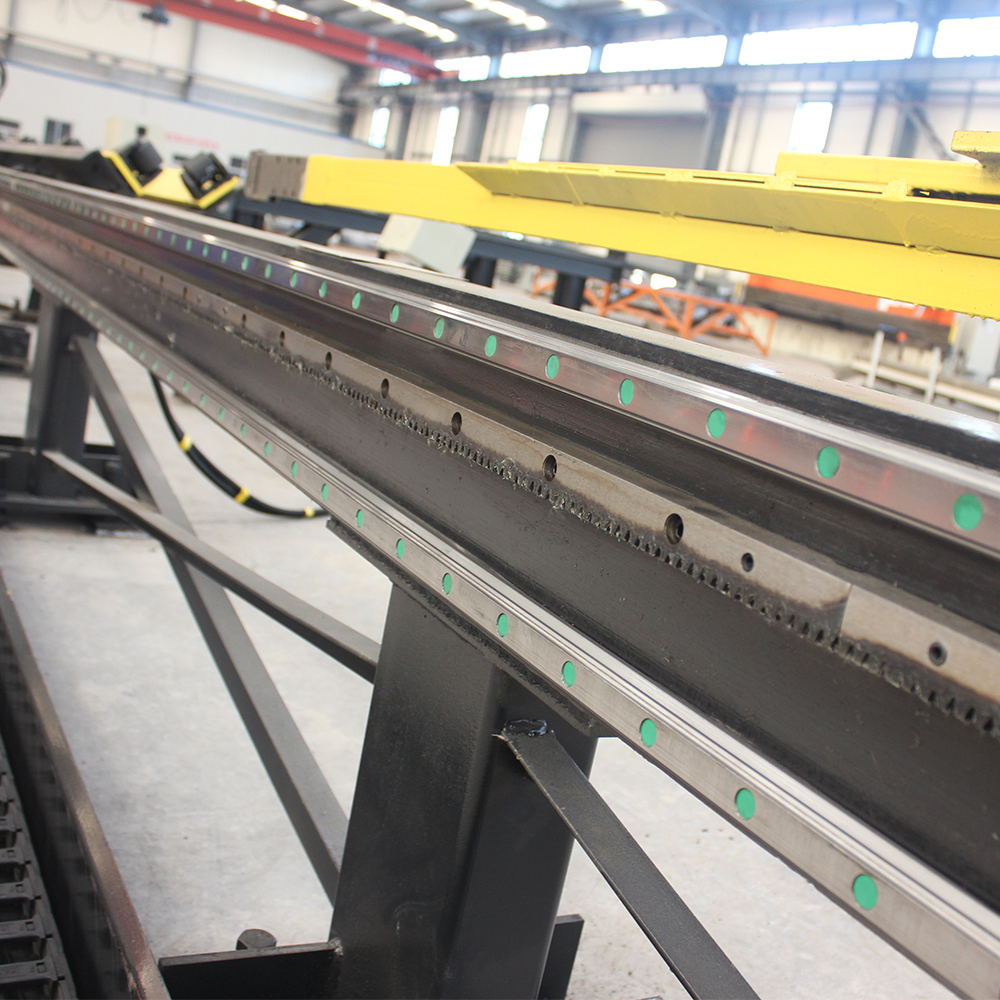 Double linear guide and detection rack for total feeding conveyor ensure better accuracy and machine stability. Linear guide from Taiwan HIWIN.

The NC Feeding Carriage: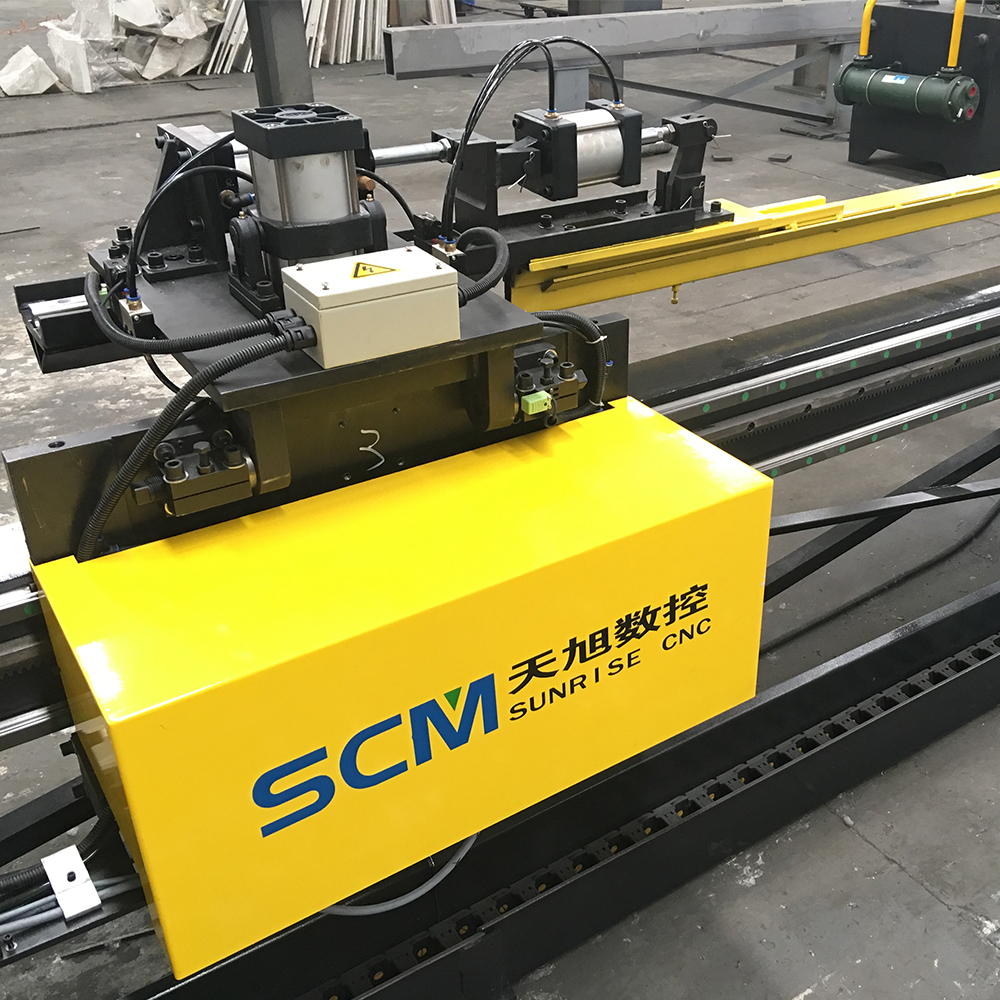 Newest NC carriage, linear guide drive, accuracy and stability much better!
NC carriage linear guide cushion, pneumatic lift
Work Table And Overturning Rack: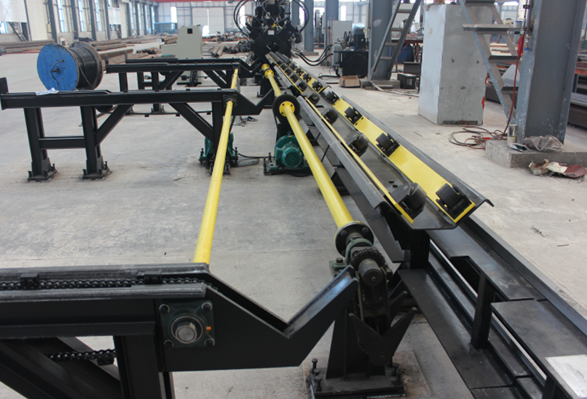 Overturn rack for loading material automatically